For 2015, Edinburgh's spectacular and world-renowned Royal Military Tattoo takes place between 7th - 29th August 2015.
The Royal Edinburgh Military Tattoo is Scotland's biggest and best-selling spectacle, the most popular annual event on the Scottish calendar, attracting an international audience each year of some 217,000 people.
****** 2015 PACKAGES NOW AVAILABLE! ******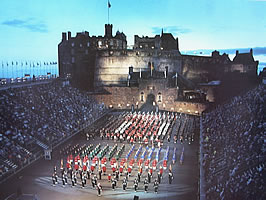 The 2015 Tattoo (7th-29th August 2015) will be the 65th extravaganza to be staged at the Scottish capital's ancient Castle - a spectacular and inspiring backcloth for this remarkable and internationally acclaimed event. With innovative production, heart-stopping sound, imaginative graphics, state-of-the-art lighting and specially commissioned fireworks, the 90-minute show is set to captivate a large cosmopolitan audience.
The line-up of nearly 1000 performers includes hundreds of musicians, pipers, drummers, singers and dancers.
With music, colour and spectacle from home and abroad, set against the incomparable backcloth of Edinburgh Castle, featuring the Massed Pipes and Drums, Military Bands, display teams and dancers from the four corners of the earth.
A huge audience favourite is once again expected to be the traditional and poignant close of the evening's proceedings when the Lone Piper high on the Castle ramparts plays a haunting lament, before the colourful, cosmopolitan cast march off the Esplanade to the strains of famous  pipe melody, The Black Bear.
4 Star Tattoo Break
Royal Edinburgh Military Tattoo 2 Night Package at the 4 star George Hotel - 2015 packages now available!!
JAC Travel  offer a 2 night weekend package (Friday and Saturday nights) at the 4 star George Hotel in Edinburgh's New Town.  Included is a mid-price Tattoo Ticket for the Saturday evening performance.
3 Star Tattoo Break
Royal Edinburgh Military Tattoo 2 Night Package at the 3 star Holiday Inn Express Edinburgh Waterfront - 2015 packages now available!!
A 2 night weekend break (Saturday and Sunday nights) during August at the 3 star Holiday Inn Express at Edinburgh's Waterfront - close to Leith's trendy restaurants and the Royal Yacht Britannia. A mid-range Tattoo ticket for the Saturday evening performance is included. Free parking at the hotel.
Other information about the Edinburgh Military Tattoo:
Doors open 45 minutes before Tattoo performance.
Duration of Military Tattoo programme: 1.5 hours.
Children of 3 and under admitted free of charge provided they sit on an adults lap.
The management reserve the right of admission.
In the event of any part of the performance being cancelled through inclement weather, tickets are not valid for any other performance and money will not be refunded. No performance has ever been cancelled.