Glasgow Hen Driving Activities
Glasgow Hen Driving Activities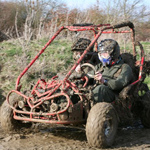 Glasgow Hen Driving Activities – Whether you girls are driving enthusiasts or not, but driving our cool motorised machines will surely be something you'll more often love to do. So, what are you waiting for, just get going and experience something new and interesting with our driving activities.
Our top driving activities in Glasgow includes a variety of activities starting from, go karting, 4x4 off road machines, Honda pilots, quad biking, blindfold driving, rage buggies to a list of other driving activities. You don't have to be a professional driving enthusiast to try your hands on these motorised machines. Just go for some practice session before heading for the final run. All safety gear will be provided at the activity centre.
So give us a call or drop us a mail and we will get back to you.