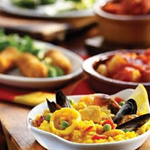 Everyone loves a chance to try new things in life and that is why we have brought an option of food and drinks where you can try different delicacies in just one day. Have as little or as much as you fancy on your special day of hen weekends in Glasgow. Whether it is Italian, Indian, Sushi or any others, you will be provided with an array of delicacies in the top restaurants of this destination.

Also remember that wine or beer will accompany your ordered treat of food. So enjoy this meal with your close mates while you talk about many things, share a gossip or two or even get acquainted with others. Whatever you do, make sure that you don't skip this special event of food & drink on your hen weekends. The appetising culinary delights can even be one among the list of things to do for even the fussiest of eaters, so don't avoid this opportunity.

Drop us a mail or give us a call at Gobananas if you have some interest in this event and we will get back to you to clear all your doubts and book for you this event in one of the top restaurants in Glasgow on your hen weekends.