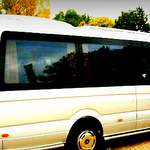 A collection of transport badges in Glasgow awaiting all you stags and hens, why wait outside in the cold for a car or feel left alone when nobody stops to pick a full drunk frame! Glasgow transport options can never be a worry with our traveling services of party bus and limousine hire to give you a comfortable ride. These luxurious posh cars is designed for clear perfection with style, comfort and luxury added to its already charming interiors of music, drinks and other entertainments.

The vivacious ambiance in superb lighting can make you feel purely comfortable for the great ride around the city corners and entry into the top clubs. We have done enough to make sure that you discover a packed weekend full of liveliness and fun. So enjoy your ride in these stretched beauties and see what it is like to be the envy among others. Have fun with your mates and enjoy the ride!

We have a choice in colors, so you can pick your favorite and go for an entertaining ride on your stag and hen weekends. The more ideas you have in mind, the more we can help you but make sure you contact us at Gobananas or drop us a mail.