Perth Hen Butler in the Buff
Perth Hen Butler in the Buff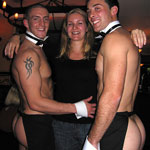 Join our forces and enjoy this treat of butler in the buff and have fun. If you need to welcome your guest in style then we would say this is the best option on your hen weekends. The macho waiters know how to add an extra spark to your special day by giving it a new dimension and feel! These bare butlers will do everything from serving you drinks, food and also even prepare for you cocktails.

These handsome butlers will entertain you the time you set your foot in these clubs till the time you get out. So just wear on your best dresses and enjoy these events with these half clad macho guys. No matter whether you are with a large or small group, you are guaranteed a great time with these boys. They will make your day more memorable and also a celebration. So have fun.

Drop us a mail or give us a call at Gobananas and we will get back to you with this treat on your hen weekends in Perth.