Stirling Hen Night time Activities
Stirling Hen Night time Activities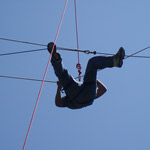 This home of royals will offer you a royal treatment, no matter what your interests are! Stirling offers a mosaic of activities and attractions for all hens during the day and the night. So get into the party mood and make your way through the tons of party haunts and have fun with your close pals.

Every girl loves to shop, so splurge into the fun of walking through the city corners or exploring the historical attractions that this place has to offer each individual. No matter what your interests are, you are guaranteed a fun hen weekend in Stirling.

For those adventure freaks out there, its all about racing, wet treats, shooting and the laid back games of golf and a relaxing session of spa. But if you haven't explored the most scintillating side of this vibrant party destination, then here it goes- the nightly haunts of clubs, bars, party bus, strippers and much more.

No taste for all what we have mentioned above? If so, drop us a mail or contact us along with your group size and budget and we will get back to you with a different set of party events for you to choose from!