Clay Pigeon Shooting in Scotland
Clay pigeon shooting ideas in Scotland
Clay Pigeon Shooting in Scotland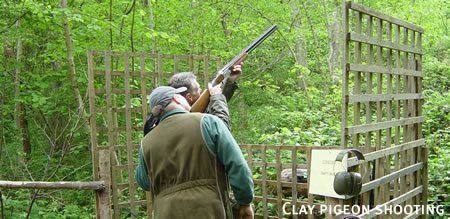 Scottish Clay Shooting Sites across Scotland
Telephone Number: 0871 7896149
Internet Address: Scottish Clay Pigeon Shooting
Clay shooting is a great day out for a group. Combining skill with a little bit of atavism.
For those of you who don't know: sporting Clays is a clay pigeon shooting sport. Often described as "golf with a shotgun", the sport differs from skeet and trap shooting in that it involves shooting clays at various locations which are launched at different velocities and angles. The original idea behind sporting clays was to create an experience that more closely reflects actual hunting conditions. Whereas top-tier skeet and trap professionals may have hit ratios nearing 100%, the best sporting clay shooters hit their targets only about 85% of the time.
If you are in Scotland, dont fancy golf with golf balls, why not try our golf with shot guns!
Click Here to Book Clay Pigeon Shooting and Other Activities