Loch Lomond, Trossachs & Stirling Castle Day Tour from Edinburgh
This one day tour from Edinburgh takes you to Loch Lomond, the Trossachs National Park and Stirling Castle, and introduces you to the land and legends of Scottish heroes William Wallace and Rob Roy. Runs everyday, all year.
---
The tour of Scotland who don't want too many miles
Stirling Castle
Loch Lomond National Park
Trossachs
Balmaha, Loch Lomond, Aberfoyle, Loch Achray, The Trossachs National Park, Stirling Castle

---
Departing Edinburgh around 09:15, we travel north-west for our first stop of the day at magnificent Stirling Castle, (1) one of Scotland's most historically significant castles, sitting high on volcanic rock and offering wonderful views of the surrounding landscape.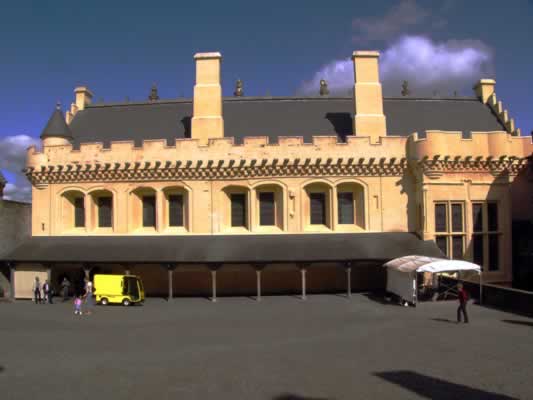 You will have time to visit the castle and learn of the exploits of key historical figures including William Wallace, Robert the Bruce and Mary Queen of Scots. With lots of interesting things to see and do here, the Stirling Castle experience is a must for any visitor to Scotland.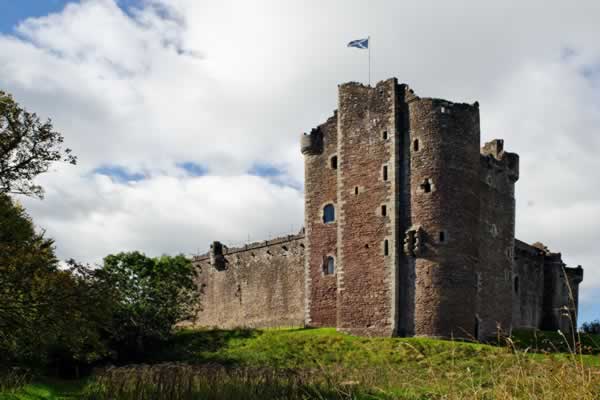 We continue on, past medieval Doune Castle, (2) to the pretty town of Callander, (3) situated on the banks of River Teith in Stirlingshire, where we stop to enjoy some lunch. From here we enter The Trossachs National Park, also known as "The Highlands in Miniature" for its abundance of lochs, mountains and forests, and famous as the homeland of legendary outlaw, Rob Roy MacGregor.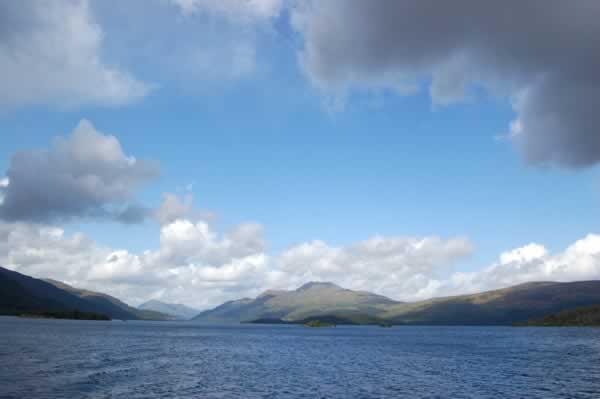 We then reach the bonnie banks of Loch Lomond, (4) one of the prettiest and largest lochs in the whole of Scotland. Here you can enjoy an hour long cruise* taking in spectacular views of the loch's many islands and the surrounding mountains. Alternatively, take a stroll through the picturesque loch-side conservation village of Luss, (5) with its quaint houses, cafes and stunning views across the loch's western shoreline. We then travel back to Edinburgh.
Beautiful Sightings - Lomond and Stirling
We went to Loch Lomond and Stirling castle. Though the weather was very Scottish - drizzling and raining - it was a revitalizing trip. The stories told by the guide gave colours to the trip, and the scenery was both beatiful all those forests - and exciting the loch and the small village of Loss with it´s viking gravestone.
The castle was a beatiful fortress with a poor exhibition and a rather tired military museum. It was well organized and perfectly prepared and served by the guide.
This is good thing to do - in all weather.
10/10
Phenomenal experience. We took the tour starting in Edinburgh, driving to Loch Lomand and Stirling Castle. Our guide, Marty, was hilarious, engaging, knowledgeable, and entertaining. He told great stories about Scots, gave us an amazingly detailed and entertaining history about William Wallace, Robert the Bruce, and Rob Roy while we were driving, and then explained context for the places we visited with regards to those great Scots.
The lunch stop was perfect- delicious and affordable options. The stops at Loch Lomand and Stirling Castle were perfectly timed for exploration, tours, and enjoyment without dragging on.
If you want to see the highlands and a gorgeous lake, and enjoy Scotland, this tour is perfect. 10/10. Will recommend to friends.
1 Day Stirling Tour
Fantastic tour of Loch Lomond, Stirling Castle and surrounding countryside. Our tour guide Laura was terrific and made the journey even more interesting with her tales of Robert the Bruce, Rob Roy and King Edward. She was very knowledgeable and entertaining. Great way to spend the day.
Trossachs & Stirling
Laura was an exellent guide, very knowledgeble and funny, we were concerned about the boring transport part of the tour but in reality those parts were the most amazing one!
Inclusions
PLEASE NOTE: Prices shown are for transport and driver-guide only.
Exclusions
* OPTIONAL EXTRAS: Stirling Castle. Loch Lomond cruise.
The Little Details
Minimum Age: Age 5+
Min Age: 5 years
Tour Vehicle Type: Mini Coach
Months of Operation: January, February, March, April, May, June, July, August, September, October, November, December, All Year
Duration of Tour: Full Day
Departure Point: Edinburgh
Departure Point: Green Ensign Ewart pub, at 521-523 Lawnmarket, Edinburgh, EH1 2PE
Departure Time: Departs: 09.15 (please arrive 15mins prior to departure time)
Expected return Time: 18:30
Duration of Tour: Full Day
Rates & Dates
| | Standard | Concession |
| --- | --- | --- |
| Nov, Dec 2018, Jan & Feb 2019 | £39 | £37 |
| March 2019 | £42 | £40 |
| April - May & October 2019, March 2020 | £42 | £40 |
| June - September 2019 + Peak | £45 | £43 |
| November 2019 - March 2020 | £39 | £37 |
Certain Dates are designated peak periods and operate High season rates as below:
Easter - 13 April - 27 April 2019
Spring Bank Holiday: 24 - 31 May 2019
Christmas / New Year: 15 Dec 2019 - 4 January 2020
There is a discount for children between 5 and 16 years, students (you must show your student card) and seniors (adults 60 years old and over).
Please note that rates vary from month to month
Departure Days
Monday, Tuesday, Wednesday, Thursday, Friday, Saturday and Sunday ALL YEAR.
Booking Notes
Prices are quoted per person per tour
PLEASE NOTE: Prices shown are for transport and driver-guide only.
Reduced Discount prices are offered to persons over the age of 60, students and children under the age of 16
This tour only operates on certain days of the week
Any booking is subject to our Booking Terms.
Book Online Now
Click on the "Book Now" button to check availability and make your reservation. Enter your dates and ticket requirements and complete the details for immediate booking. Voucher follows a minute later in your email!
Some Places We Will Visit
The sleepy village of Aberfoyle suddenly bursts into life in the summer with the arrival of hordes of tourists. It lies on the edge of the Queen Elizabeth Forest Park and, along with Callander to the east, is one of the main tourist centres for the Trossachs.

As you'd expect with such a strategically important town, Stirling has a long and fascinating history and is packed with major historical sights.

Balmaha located on the East Shore of Loch Lomond is a great stopping off point at the foot of the Conic Hill. This beautiful place has been slowly transformed into a popular tourist destination on the Loch. Balmaha is an ideal spot for walkers on the West Highland Way. The name Balmaha is said to be originated from the Gaelic from the St Maha's place giving the village an ancient origin.
Castle Visited
Scotland's most strategic castle with a dominating position over the gateway to the North of Scotland.
Similar Tours
A wonderful journey through the Celtic heartlands in the central Highlands taking in the waterfalls in Birnam forest, Pitlochry, the Queen's View and the splendour of Loch Tay, an area abundant with standing stone circles. You also visit a whisky distillery for a tour and tasting. Departs every day (All year).

Prices From: £42
Runs : Monday, Tuesday, Wednesday, Thursday, Friday, Saturday, Sunday, Every Day

Discover Loch Lomond, the Trossachs National Park and Stirling Castle. Enjoy a cruise across Loch Lomond, explore the pretty village of Luss and end the day with a visit to Stirling Castle. Runs Monday & Thursdays all year. Returns Glasgow 18:00. Probablt the perfect tour if you want to get out but don't want the monster Loch Ness Odyssey.

Prices From: £36
Runs : Monday, Thursday

This is our most popular day trip the Highlands covering Loch Ness and Glencoe and taking in some of the most dramatic scenery of the Scottish Highlands. Visit Glencoe and perhaps a cruise on Loch Ness cruise and visit to Urquhart Castle. Runs 360 days a year.

Prices From: £49
Runs : Every Day