7 Day Skye, Orkneys & Highlands Coach Tour
This comprehensive 7 day tour of Scotland's Highlands and Islands is the perfect balance of discovery, travel and hospitality. Travelling in a small group you'll experience a magical blend of island life, historic castles and ancient legend. Price includes your accommodation & breakfast. This is the best extended tour for the Far North of Scotland! Departs Mondays from May to September from Edinburgh.
---
Highlights: Loch Lomond, Inveraray, Kilmartin Glen, Oban, Glen Coe, Fort William, Isle of Skye, Cuillin Hills, Eilean Donan Castle, Torridon, Glen Affric, Loch Ness, Inverness, Ferry to the Orkney Islands, Italian Chapel, Scapa Flow, Kirkwall, Maeshowe, Skara Brae, Ring o'Brodgar, Culloden Moor and Pitlochry
---
Day One - Edinburgh to Oban
From Edinburgh we travel westwards across Scotland to reach Glasgow, Scotland's most populous city. Turning North we enter the Loch Lomond and Trossachs National Park, a natural wonder that is just waiting to be discovered. The "bonnie, bonnie banks" of Loch Lomond is a real highlight. This is Britain's largest lake and also one of Scotland's loveliest. It has 30 islands, including one inhabited by a colony of wallabies!

The Argyll Forest Park is famed for its ancient trees, tranquil lochs and mountains. Look out for Ben Arthur, affectionately known as "The Cobbler" - it's one of Scotland's most popular climbs.

Soon our coach starts our ascent of the "Rest and be Thankful" mountain pass. You'll soon realise why this road has such an unusual name when you look down on General Wade's original road that winds its way through Glen Croe all the way to the summit!
The 3rd Duke of Argyll built the "new" town of Inveraray at the head of Loch Fyne. The town sits in the shadow of his castle and, as we will discover, this pleasant town retains much of its 18th Century charm.

From Lochgilphead we enter Kilmartin Glen. This mysterious Glen is one of the most concentrated areas of prehistoric sites in Scotland including a linear cemetery – a line of burial cairns that stretch for over 2 miles.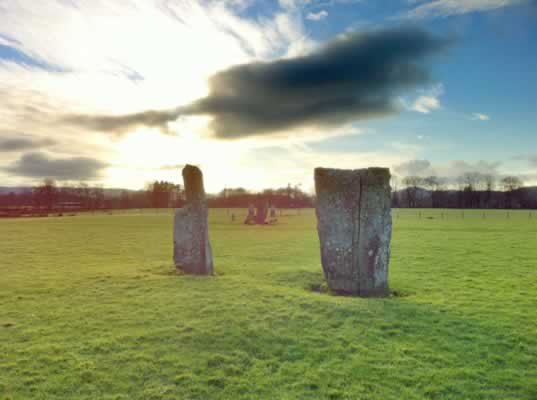 Nearby is Dunadd, a hill fort that dates from the Iron Age. Dunadd was the capital of the ancient Kingdom of Dalriada so this part of Argyll has played an important part in the creation of modern Scotland!
After a little more motoring we arrive in the bustling, beautiful port of Oban, our stop for tonight. Oban is the gateway to the isles so why not take a pre-dinner stroll and admire the views over the busy working harbour.
Overnight: Oban
Day Two - Oban to Skye (2 nights)
We bid farewell to Oban and make our way to the Connel Bridge. As we cross Loch Etive look out for the Falls of Lora below.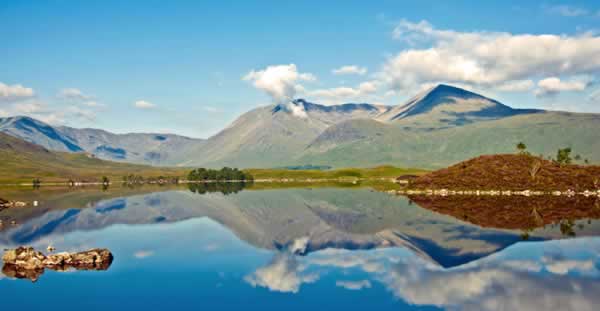 Glen Coe is arguably Scotland's most famous Glen/valley partly because of its solitary, glowering beauty and because of the infamous massacre that took place here in 1692. The sad tale will be told as we make a short diversion to explore this special place for ourselves. The story explains why members of the Campbell and Macdonald clans always look a little askance at each other.
Fort William's glorious setting on the banks of Loch Linnhe has made it a popular tourist destination since the arrival of the steamships in the mid-1900's which made this a popular and accessible tourist destination from Glasgow. The town sits in the shadow of Ben Nevis, which, at 4,406 feet, is the tallest mountain in the UK. If the weather is kind to us we should hopefully get a good view of "The Ben" as we leave the town.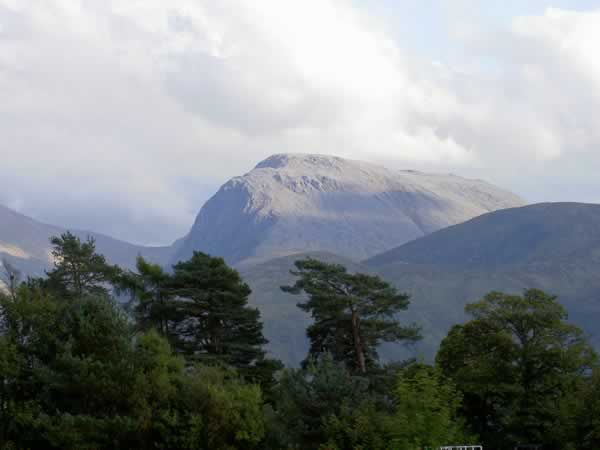 We jump aboard the Jacobite Train (well known around the world as the train in Harry Potter) and travel to Mallaig, passing over the Glenfinnan Viaduct on the way. At Mallaig, there's time for dinner before we catch the ferry across to Skye and our resting place in Kyleakin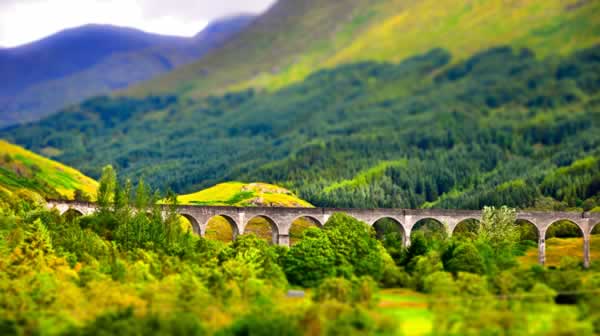 Overnight: Kyleakin, Isle of Skye
Day Three - Touring the Magical Isle
After breakfast we board our coach for a wonderful day of exploration of this fabled isle. From the little villages and gentle scenery of the southern part of the island the views will change dramatically as the Cuillin Hills come into view. Considered by many to be amongst the finest hills in Britain the Cuillins present a vista that is simply unforgettable.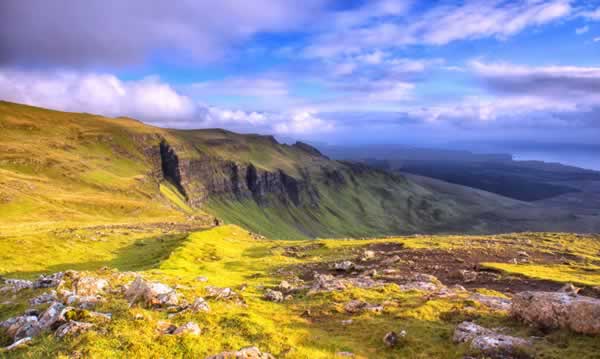 A broch is a type of fortification that only exists in Scotland and date from around 2,300 year ago. Today we'll visit Dun Beag which sits on top of a rocky knoll. With walls that are 4 metres thick this broch offered protection to Iron-Age farmers from what kind of threat we can only just guess at.
Our next stop is to Dunvegan Castle*, the ancestral home of the Clan Macleod. There has been a castle on this site since the 13th Century and its treasures include the Fairy Flag, said to bring good luck to the clan in times of trouble.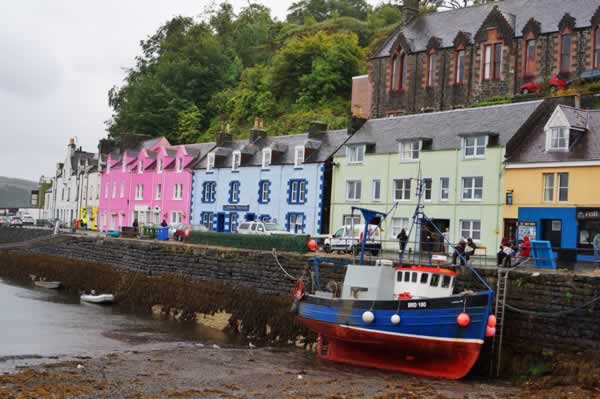 Set round its natural harbour the picturesque town of Portree is the island's largest community. The name of the town means the "King's Port" following a visit by King James V in 1540. Today, the pretty painted houses which surround the harbour give Portree an old fashioned appeal. During our stop there will be time to explore the town and browse the shops that surround Somerled Square.
The fishing village of Elgol lies at the end of a spectacular route through the heart of the Red Cuillin Hills. On our visit to Elgol you'll have the chance to take a wildlife spotting cruise * and enjoy stunning views of the high peaks of the Black Cuillins.
Overnight in Kyleakin
Day Four - Eilean Donan & Inverewe

We'll leave Skye and head acroos the Kyle of Lochalsh straight to Scotland's most photographed castle, Eilean Donan* which you'll have ample time to explore. We'll continue further north through Glen Carron and past Loch Carron towards Achnasheen.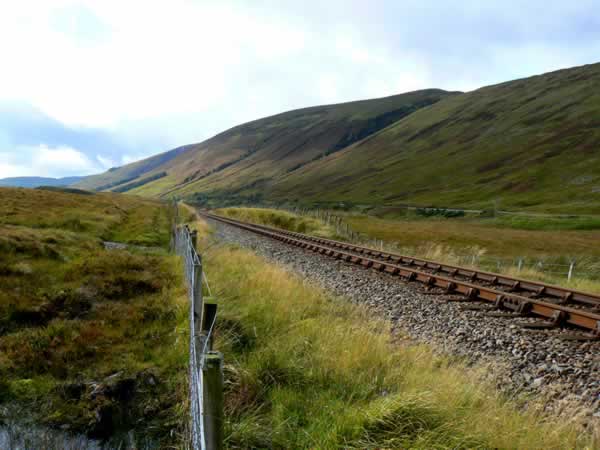 You'll also experience the dramatic Glen Docherty which looks down towards Loch Maree, once visited by Queen Victoria and home to its very own "Nessie" known as Muc-sheilche. Our lunch stop will be at Inverewe Garden*, well-known for its sub-tropical plants. You'll also get to take in the incredible Gruinard Bay and the breath-taking Corrieshalloch Gorge and Rogie Falls, then on to your overnight stop by Loch Ness, where you can take an evening boat cruise (optional).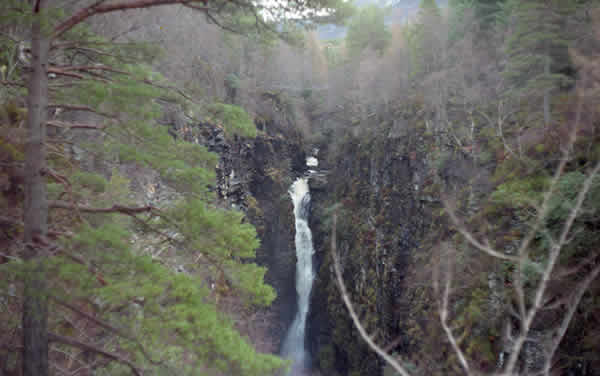 Overnight: Fort Augustus
Day Five - Loch Ness to the Orkney Isles
Today sees an early start, crossing through the Black Isle, and past the famous American industrialist, Andrew Carnegie's Skibo Castle. From here we drive along the northeast Highland coastline, travelling through some of Scotland's most dramatic scenery. These are some of Europe's oldest landscapes and here we have another chance to see wildlife such as Golden Eagles and red deer.
We board the ferry, crossing the Pentland Firth into the Orkney Archipelago. On our arrival it is a short drive to the famous Italian Chapel where few will fail to be moved by the dedicated workmanship of the Italian prisoners of war who crafted this place of worship from a humble Nissan hut. Their story and many others will be told as we view Scapa Flow, the scene of momentous events during both World Wars.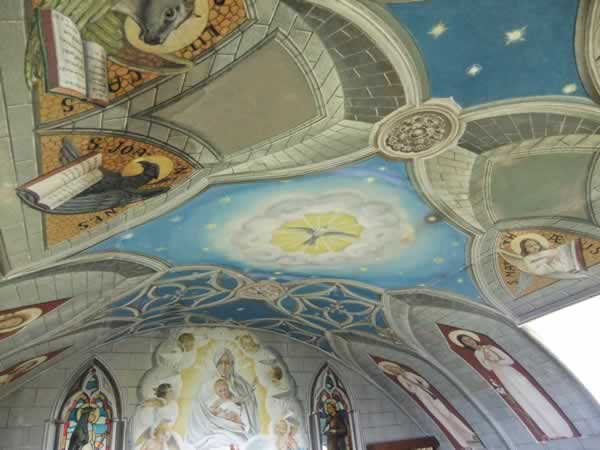 The Viking stronghold of Kirkwall, is our home for the next 2 nights.
Overnight: Kirkwall
Day Six - We Explore Orkney
Orkney is home to many outstanding historic treasures and today will be a unique day of discovery. On our itinerary today are visits to Maeshowe *, a magnificent tomb built almost 5,000 years ago and the Ring of Brodgar, a stone circle that once comprised of 60 megaliths.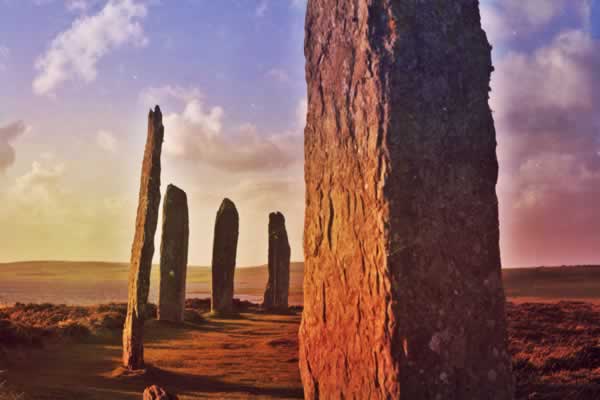 Today with 27 stones still standing, some over 5 metres tall, it takes little imagination to visualise the extent of this historic monument.
Uncovered by a storm in 1850 Skara Brae * is one of the best preserved groups of Stone Age houses in Western Europe and our visit will reveal the stone furniture, hearths and drains that present such a remarkable picture of Neolithic life.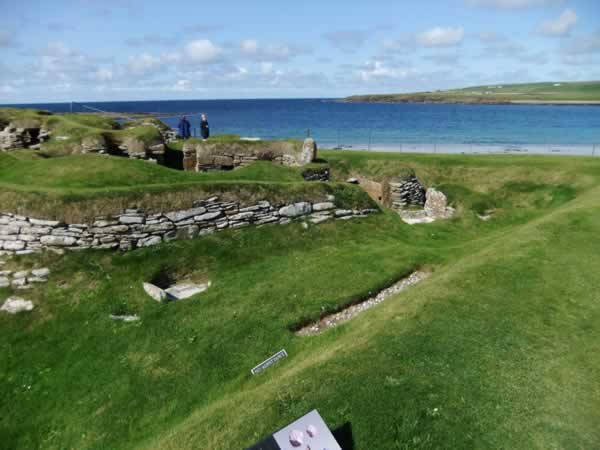 The day will finish with a visit to beautiful St Magnus Cathedral, one of Europe's great architectural achievements and over 800 years old.
Day Seven - Orkney to Edinburgh via Inverness
It's an early start as we board the ferry and bid a farewell to the Orkney's. There's time to explore Inverness, the Capital of the Highlands before travelling the short distance to visit tragic Culloden Moor *. It was here that the Jacobite army of Bonnie Prince Charlie was routed by Government troops in a bloody battle in 1746.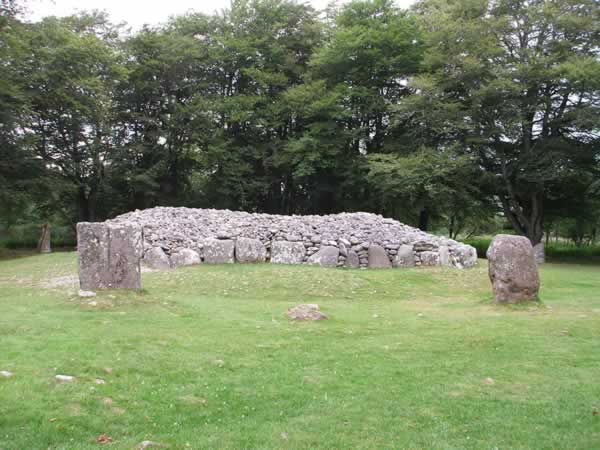 The Cairngorm National Park is Britain's largest and contains five of Scotland's six highest peaks. The park provides stunning backdrop to our travels through the Spey Valley then we descend through the Drumochter Pass to reach the pleasant Victorian tourist town of Pitlochry where we will stop for refreshments.

The dramatic scenery of Highland Perthshire gives way to rolling farmland as we reach the "Fair City" of Perth then we join the motorway for our journey through the ancient Kingdom of Fife. The final part of our drive offers wonderful views of the Forth Rail Bridge as we make our way into Edinburgh.
* Admission fees extra
Inclusions
• 6 nights accommodation in twin rooms with private bath/shower
• Full Scottish breakfast (days 2 to 7)
• Live commentary in English.
• Excursions as detailed in itinerary
• Transportation by air-conditioned minicoach
• Services of an experienced tour host
• Service charges and taxes
Luggage Allowance: One medium sized suitcase/bag per person (maximum weight: 12 kilos)
Exclusions
• Admission charges unless otherwise stated in the itinerary
• Meals, snacks or items of a personal nature
• Gratuity to your driver/guide
The Little Details
Minimum Age: Age 3+
Min Age: 3 years
Tour Vehicle Type: Coach
Months of Operation: May, June, July, August, September
Duration of Tour: 7 days
Departure Point: Edinburgh
Departure Point: 1 Parliament Square, Royal Mile, Edinburgh, EH1 1RF
Departure Time: Check In: 08:15 Departs: 08:30
Expected return Time: Returns: 19:00 (day 7)
Duration of Tour: 7 days
Rates & Dates
Hotel
Superior Guesthouse
B&B

Twin/Double Room: £1030.00

Single Room: £1095.00

Twin/Double: £905

Single: £1015

Twin/Double Room: £830.00

Single Room: £895.00
Departure Dates 2017
8 & 22nd May, 2017
5 & 19 June, 2017
3, 17, 31 July, 2017
14 & 28 August, 2017
11 September, 2017
Cancellation Policy: For cancellations more than 30 days prior to departure date - 90% refund. 30 to 15 days - 50% of tour cost will be refunded. 14 days or less - no refund.
Full payment is required at the time of booking. We strongly recommend that you take out appropriate travel insurance to cover any need to cancel.
Booking Notes
Prices are quoted per person per tour
Customers must provide a valid credit card number.
Limited availability : advanced booking required.
Any booking is subject to our Booking Terms.
Click on the "Book Now" button to make your reservation. Enter your dates and requirements and complete the booking. Scottish Tours will confirm availability to you immediately or very soon thereafter. Rest assured no payment will be taken if they cannot confirm the booking to you.
Full tour operator information including local contact telephone numbers and departure details will appear on your tour voucher/confirmation.
Some Places We Will Visit
Castle Visited
One of the world's quintessential castles: Eilean Donan is familiar from films and stunning in its romantic location. Open daily.

The Clan MacLeod has had its family seat at Dunvegan Castle since about the 12th century. It remains the seat of the Clan and a castle well worth visiting for its history and excellent state of repair

Very picturesque and ruinous castle near Kyleakin on Skye built in the 15th century
Similar Tours
3 Day to Orkney starting from Inverness on Mondays. Price includes accommodation in B&B based on 2 sharing. Includes all the amazing monuments of Orkney with expert guide. Runs April to end of October. Small 16 seater for intimate experience.

Prices From: £257
Runs : Monday