Eigg
Just five miles long and three miles wide, Eigg has had something of a chequered past with absentee landlords or absentee criminal landlords, but owned by the community since 1997, it has now developed a real local community and makes an interesting visit or a stay away from the world.
---
You can find out a lot of information on the island from their website at www.isleofeigg.org which is managed by the local community.
There is some accommodation on the island but the real reason to visit is the array of wildlife, the quiet and the excellent walking especially to the top of An Sgurr (1289 feet) which is climbable but somewhat precipitous near the top but offers wonderful views of the Inner Hebrides. The main village is Galmisdale where the ferry stops and has the post office and tea room by the pier.
There is a further settlement at the northern end of Eigg called Cleadale on the Bay of Laig. To the north of Cleadale are the singing sands beach where the sand makes strange sounds as you walk over them also a site for taking lovely photographs: see below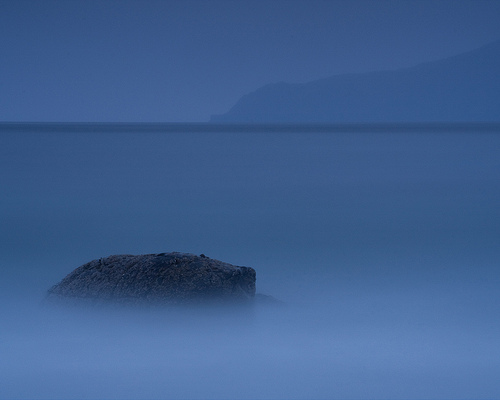 Peter Hayward from Flickr
Fans of Tolkien (Lord of the Rings) might want to visit the Howlin' House which sounds more like a blues album but which belonged to him.
Travel Directions to Eigg
Eigg Hotels & Accommodation
Glebe Barn - both a hostel and outdoor centre
Kildonan House - eighteenth century farmhouse with fabulous aga heated kitchen - 1 ensuite double and 2 sharing twins, all south facing
Lageorna - converted croft with very contemporary and airy extension. Fun and interesting enviroment with lots going on and dinners served
You can also eat out at Galmisdale Bay which was previously the tea rooms beside the pier.