Glendale
Glendale (not to be confused with Glendale in California) lies on the extreme North-Western tip of the Isle of Skye. It is only a 50 minute drive from the island's capital at Portree. Most people pass through on the way to Neist Point
---
Glendale Visitor Guide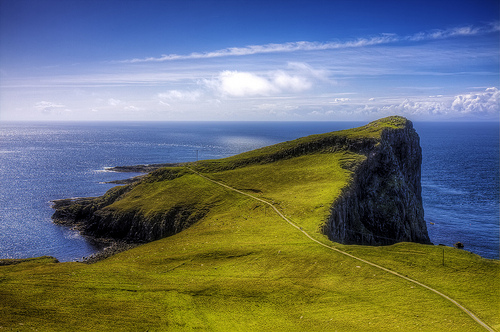 (Neist Point on Skye. click Image for credits)
Glendale is a cluster of tiny crofting townships that comprise the inhabited parts of the 18,956 acre Glendale Estate. The estate extends from Neist Point in the West, to Loch Pooltiel in the North, to Loch Dunvegan in the East. To the South it covers vast acres of moorland, skirting the slopes of MacLeod's Tables and extending almost down to MacLeod's Maidens at Idrigill.
Thousands of seabirds have made the steep cliffs of Glendale their home and this area is the best place onSkye for seeing whales, dolphins and porpoises. Seals can be seen on the skerries in Loch Pooltiel. To the west of the Isle of Skye lies Diurinish about 7 miles from Dunvegan.
Dunvegan Castle and Neist castle are close by. Three Chimneys, which was recently voted 28th best restaurant in the world, is at Colbost, one of Glendale's Eastern-most townships.
Local Visitor Attractions
Quiet swimmable loch and black sands and a grea deal of history.

Dramatic Lighthouse look west at the far western tip of Skye. Sunsets to die for! Requires a walk.