North of Oban & Connel Bridge
Visitor Guide to North of Oban including Connel Bridge, Loch Etive & Falls of Lora
---
Five miles north of Oban an impressive steel cantilever bridge carries the A828 across the mouth of Loch Etive at Connel. It's worth stopping here to see the Falls of Lora, a wild tide-race created by the narrow mouth of the sea loch and the reef that spans most of it, thus restricting the flow of water. The result is the impressive rapids, which are best seen from the shore in the village or from halfway across the bridge. There are several cheap B&Bs in Connel village, should you wish to stay, but the nicest place is the Ards House, Tel. 710255, which offers good food.
Five miles east of Connel Bridge, on the north shore of Loch Etive, Archattan Priory Garden is worth a detour if the weather's fine. You can wander amongst the 13th-century priory ruins and the gardens, which are at their best between July and September, though spring is also a good time. There's also a tearoom. Apr-31 Oct 0900-1800. Tel. 750274.
A few miles north of Connel Bridge at Benderloch, a road turns west (signed South Shian) to the Tralee Dive Centre, Tel/Fax. 720262, where you can charter boats for fishing. Nearby is Tralee Rally Karting, Tel. 720297, which is open July-September daily 1000-1800.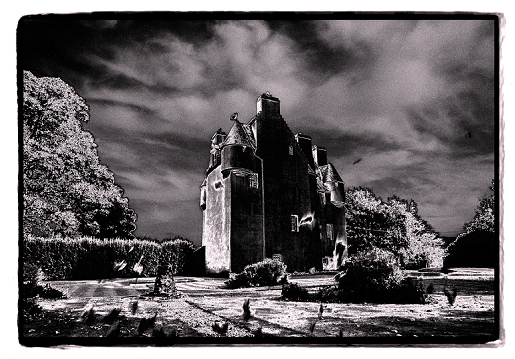 Local Sights & Activities for North of Oban & Connel Bridge
Continue on this road to reach Barcaldine Castle, built by the Campbells in the late 16th century. The tower house is still occupied by Campbells, having been sold in the mid-19th century and then bought back as a ruin 50 years later. It's now open to the public and, though there are no real treasures, there are interesting stories to be told, secret passages to explore, a dungeon (with obligatory ghost) and a tearoom where you can try Mrs Campbell's home baking. Jul-Aug Tue-Sun 1200-1700. Tel. 720598.
Oban Sealife Centre
Near Barcaldine Castle, on the main A828, is the Oban Sealife Centre, on the shore of Loch Creran. It's enormous fun and also environmentally friendly as they rescue seals and other aquatic life and then release them back into the wild at the end of the season. You can see lots of strange underwater creatures at close quarters and even touch some of them. It's the ideal place to come with kids, or if it's raining. There's also a self-service restaurant. Daily 0900-1800 (1000-1700 in the winter months). Various discount vouchers are in operation. Ask at the TIC or phone directly; Tel. 720386. Buses to from Oban to Fort William pass by the Sealife Centre.
Local Visitor Attractions
Wonderful new operation that takes you along Loch Etive and around the Firth of Lorn from Dunstaffnage Marina (near Oban) aboard wide beamed catamaran. Booking required.
North of Oban & Connel Bridge Hotels & Accommodation
You can spend the night in Barcaldine Castle; there are 2 rooms for B&B from Jun-Sep. If the thought of a night in a haunted castle doesn't appeal, there are several B&Bs in the village of Benderloch. If money's no object, then treat yourself to the luxurious Isle of Eriska Hotel, Tel. 720371, Fax. 720531. 17 rooms. Argyll's only 5-star hotel, situated on its own private 300-acre island off the northern point of Benderloch.