Cupar
The main centre in the Howe of Fife is Cupar, a thriving market town that was once the administrative centre of Fife. This is our guide to Cupar with information on history, how to get there an tips on what to do and see.
---
There's an air of relative well-being about Cupar, verified by an array of shops catering to the retail connoisseur. In the heart of the burgh is the Castlehill which played a notable part in Cupar's history. There, the Thanes of Fife had their principle residence in ancient times and later it became the home of Sir David Lindsay. Sir David was a dramatist with a devastating wit and his play Ane Pleasant Satyre of the Three Estaits earned him considerable fame. It was by far the most popular play of its day and is still popular at the Edinburgh Festival.
Phone code: +44 (0)1334 Population: 7,610
Travel Directions to Cupar
Activities
Enjoy a combination of Hovercrafting along with Quad Biking and Clay Shooting or choose between these to make the best of your day in Fife!
Local Sights & Activities for Cupar
Hill of Tarvit
One of the main reasons for stopping off at Cupar is to visit Hill of Tarvit, two miles south of the town and one mile from Ceres. This Edwardian mansion house was beautifully remodelled by Robert Lorimer in 1906. Among the fine collection of treasures inside are Flemish tapestries, Chinese porcelain, Dutch paintings and 18th-century French, Chippendale and vernacular furniture. The gardens are laid out in the French style, with box hedges and yew trees, and there is a woodland walk to a hilltop toposcope with a lovely view of the house. The estate includes the fine Scotstarvit Tower, three quarters of a mile west of the mansion house, dating from 1579. House and garden open Easter & May-Sep, weekends in Oct. Admission to tower free; key held at house.
A FINE FAMILY HOME
Pic: Hill of Tarvit house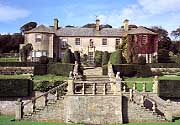 Hill of Tarvit mansionhouse in Fife is a grand Edwardian family home with a fascinating history. Lorraine Wakefield takes a step back in time to the early 1900s.
When Dundee financier and jute manufacturer Frederick Sharp was looking for somewhere to create a new home for his family he came across the perfect location nestling on a hillside above Cupar in Fife.
The site was occupied by the 17th century Wemyss Hall but it did not fit Sharp's requirement for a grand new home suitable to house his extensive antiques collection so he decided to completely remodel the house around his own ideas.
Employing the acclaimed architect Robert Lorimer, who was knighted five years later for his Knights of the Thistle Chapel in St Giles Cathedral, he set about creating a new family home with all modern conveniences befitting his status and the house was completed in 1906.
Sharp epitomised the era of the late 19th and early 20th century when Scotland was the industrial workshop of the world and manufacturing magnates built up huge fortunes and fantastic art and antique collections.
However like that era the time Hill of Tarvit mansionhouse spent as a family home was also short lived following the death of both Sharp's children in tragic circumstances and unmarried. The house and collection were bequeathed to the National Trust for Scotland in 1948 and it is one of the newest properties in the care of the trust.
Frederick Sharp was born in 1862 the youngest of four sons in a wealthy jute manufacturing family and trained as a financier in the City of London before joining the family business. His financial expertise made him chairman of one of Dundee's earliest investment trusts and he also enjoyed financial success as a director of the Caledonian Railway and later the London, Midland and Scottish.
While amassing his wealth Sharp also devoted lots of time to collecting art and antiques and Hill of Tarvit is unique in design having been built around the collection rather than the other way around.
Each room in the house was specifically designed in a certain theme or style to match the furniture and paintings that would go inside resulting in an interesting and eclectic mansion that was still small enough to be an intimate and comfortable family home.
Pic: The sitting room hall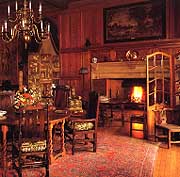 Entering the house visitors enter a grand sitting room hall, popular at the start of the 20th century, with French style wood panelling and carving and a giant fireplace recording the 1906 date of the house. It was styled to hang Sharp's 16th century Flemish tapestries and it also holds a selection of 17th and 18th century English and Scottish oak furniture.
Moving through to the drawing room an entirely different French style has been used to create a light and airy room with 18th century style plasterwork providing a fitting backdrop for Sharp's collection of French furniture.
The dining room was designed in a deliberately Palladian manner to provide a setting for the collection of Georgian dining furniture and like all the downstairs rooms at the front of the house there is a door out to the terraced gardens.
Upstairs the different themes continue in different parts of the house and one of the most interesting features is the domed ceiling in the southwest bedroom, used by Mrs Sharp, which amplifies voices of people standing underneath and throws them across the room.
The modern conveniences installed at Hill of Tarvit are perhaps most evident in the service premises at the rear of the house, the only part of the original Wemyss Hall that remains having been added on in Victorian times.
Hill of Tarvit had electricity, a house telephone linking various parts of the house, central heating and steam heated cupboards to keep food warm before it was served in the dining room.
The upstairs bathroom also has an early shower over the bath and the lavatory designed by Lorimer for Messrs Shanks with the trade name "Remirol" - simply his name backwards.
There was also no expense spared outside the house with spectacular gardens, a nine hole golf course, tennis court, croquet lawn and curling pond to entertain the family in their leisure time.
Frederick and his wife Beatrice had two children, Hugh born in 1897 and Elizabeth born 12 years later but the time they spent as a family living at Hill of Tarvit was sadly short following Frederick's death in 1932.
Hugh was seemingly a confirmed bachelor but he became engaged in 1937 to Mabel Hogarth from a west of Scotland shipping family. However just two months later while travelling to see her he was killed in one of Scotland's worst rail disasters when the Dundee and Edinburgh trains heading for Glasgow collided at Castlecary.
This left Beatrice and unmarried Elizabeth living quietly at Hill of Tarvit until Mrs Sharp's death in 1946 followed just two years later by Elizabeth who died from cancer aged just 38.
With no family remaining Elizabeth left the house and collection in the care of the National Trust for Scotland with the upstairs of the house used as a convalescence home by the Marie Cure Foundation for 30 years until a new hospice opened in Dundee.
The brief time the house was lived in means it remains almost as it was when the Sharp's first moved in and remains as a snapshot of life during a great era of Scottish wealth and success.
More information about visiting Hill of Tarvit mansionhouse is on the website www.nts.org.uk
(12/9/2002)
Scottish Deer Centre
The Scottish Deer Centre, three miles west of Cupar on the A91, is both enjoyable and educational. Here you can see many species of deer at close hand, and even feed, stroke or photograph them during a ranger-led tour. There are indoor and outdoor adventure parks for the kids as well as a restaurant and winery. Easter-31 Oct daily 1000-1800; Nov-Easter daily 1000-1700. Tel. 01337-810391.
Fife Animal Park
Those who prefer more exotic animals can head a few miles further west on the A91 to the Fife Animal Park at Collesie, where you can see ostriches, wallabies, emus, bison and llamas as well as more familiar breeds. Apr-May daily 1000-1800; Jun-Aug till 1900; Sep-Mar till 1600. Tel. 01337-831830.
Ceres
Once described as the most attractive village in Scotland, Ceres lies three miles south of Cupar. Whether or not you agree with that assertion, the village does present an appealing picture with its pan-tiled cottages surrounding a historic village green. Tradition says that the village and ancient cobbled bridge have been there for more than 650 years, that the men of Ceres marched across the bridge on their way to the battle of Bannockburn and on their return celebrated their victory with games on the village green. The Highland Games are still an annual event, on the last Saturday in June, with the Ceres Derby the highlight of the day.
Sights in Ceres
Another special feature of Ceres is the Fife Folk Museum, housed in part of the 17th-century Tolbooth Weigh House and two adjoining cottages. The award-winning museum displays crafts and trades, costumes, tools and utensils of a bygone age in rural Fife. Easter and mid-May to Oct daily 1400-1700. Tel 828250.
Also worth visiting is the Griselda Hill Pottery, at Kirkbrae. Here you can see a revival of the production of Wemyss Ware, the best-known Scottish pottery. Tel. 828273. Summer and Christmas Mon-Fri 0900-1630, Sat and Sun 1400-1700, Mon-Fri 0900-1630 in winter. Free. A good place for a bar lunch is Meldrums Hotel, on Main Street, Tel. 828286.
Nearby Distilleries
Probably Scotland's smallest and newest whisky distillery and one of the few in Fife. Not open to public except by appointment.
Cupar Hotels & Accommodation
Self Catering Cottages in Cupar